Jacky and Gerry love to hear from you!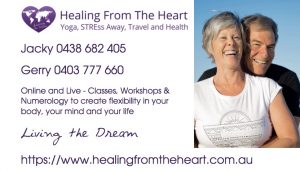 Sign up to receive our newsletter which keeps you informed of upcoming events and updates you on our travels.
Ask us questions. We will always strive to reply promptly.
Give us feedback. We have a testimonials page or you can give us feedback here.
Book a session. Tell us what date or time you require for a class, a reading, a Numerology report etc and we will do our best to meet your preferences.
Reach out to us. Join our online community. Be our friends. We may be online now but we are travelling and may get to meet you in person sometime soon.
Your information is treated as private and confidential and will not be shared with anyone outside of this organisation.  Your positive feedback is always welcome.