Description
A beautifully illustrated Newborn Numerology Profile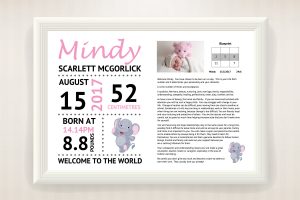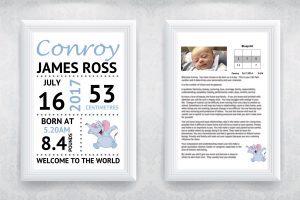 Jacky writes a unique Numerology profile for your new bundle of joy which makes a delightful and personal memento to celebrate that new little angel coming into your life.
The page is designed for a boy or a girl and includes the personal Lifepath profile of your new little one.  The cute design features baby's weight, height, time of birth, and date of birth. Send us your favourite photo (as a jpeg file) of your little one and that will be included in the design also.
The profile will come to you as two A4 pdf files. The illustration here shows how cool it looks when framed.
At places like Officeworks and Harvey Norman Photo lab, it is inexpensive to have them printed on photo quality paper. If you save it to a USB they will print 2 x A4 or even enlarge or reduce to suit your frame. If you prefer you can have it laminated.
The Newborn Numerology Profile is a unique and memorable keepsake.
If you are a new parent, a grandparent, a friend or a relation, this is the perfect gift.  And it does not matter if you missed getting it when they were newborns. We can still create a special plaque with their baby photo as a Christening Gift or even a birthday present.
Send me the parent's dates of birth, and I can add a little bit about each of them too!
What to Do
Fill in all the details and attach a jpg of the special baby picture. Once I have compiled the profile, I will email two A4 sheets to you, just like you see here.

A treasured memory for your family.
Click on the CART above to order your Newborn Numerology Profile.