sTREss away. Find out how to reduce stress and anxiety.
Trauma Release Exercise Classes, Workshops and personal sessions are here for you.
Shake your way to a happier you!
Founded by David Berceli PhD
A client with chronic fibromyalgia talks about her TRE experience 

"I feel so alive and in the moment like never before in my whole life! All glory to God! Feel relaxed, peace, lots of joy! FEEL GROUNDED! I have much more self-confidence! I feel calm under pressure! I do not take offence so easy anymore!""I am much more aware of the fact that every day counts! Instead of just going through the motions of "doing" life, I tend to live every moment to the full! My perception and feelings about things are so much stronger! It is like my eyes have been opened and I see things in 3D!"

"I haven't composed music for so many years! I am sitting in front of the piano now and the music just flows from my spirit! I am grateful to have TRE as a tool to manage pain!" I have the courage to share with people some of the things that happened in my life. That encourages them and empowers them to do the same."
In comparison to many stress prevention approaches, TRE does not require ongoing focus or effort, (as for meditation & relaxation techniques) and does NOT require recalling or talking about past events (as with cognitive behavioural or talk based approaches.) TRE is entirely focused upon releasing the body's physical reactions to stress and trauma and is therefore able to be used in a completely stigma free way.
David Berceli is the founder and CEO of TRE and is a Clinical Social Worker (PhD) and Certified Field Traumatologist (CFT).  He spent 15 years, living and working among war torn nations of Africa and the Middle East.  He has provided services for the US military and international relief organisations so he has witnessed the result of trauma first hand on so many occasions. He has developed the Trauma Release process to assist anyone who has been subjected to stress or trauma of any kind. From a man losing his job, to a child falling off their bike, to a near fatal, road smash and, for those who have been to war or who have been a victim of it.
I first met David at his Sydney workshop in December 2012.  I was so impressed with the man and his work that I fast tracked my training to become a Level 1 TRE Instructor. I subsequently completed my Level 2 Instructor training) I believe this simple series of exercises, designed to release trauma and stress, without having to re-live the traumatic event is a miracle in itself.  It is a great add on to any stress relief or trauma therapy you are already undergoing.
What happens in a sTREss away class?
I will guide you through a series of 6 standing exercises,  They are specifically designed to fatigue certain muscle groups.   Then you lie down on your back and assume several different leg positions which cause your legs to naturally shake or tremor in whatever rhythm it chooses. The mind does not need to be engaged with this process and it can be very relaxing.  You may be tremoring away old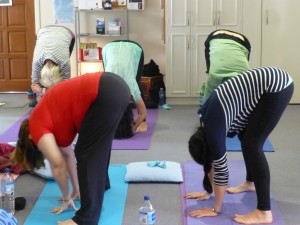 trauma, new stresses – it does not matter what. Your mind and particularly your memory does not need to be engaged in the process.  The body uses its innate wisdom to release whatever stress or tension pattern is appropriate. Once completed, we have a short relaxation/meditation to allow you to integrate the process and then an opportunity to share (if you wish) what you experienced. How do you feel afterwards? Students comment on feeling more relaxed, blissed out, more clarity, sleeping better, more energised, less pain, better demeanour.
A session lasts around 90 minutes (including exercises) and may be repeated 2 – 3 times per week, firstly with a qualified instructor and eventually in the comfort of your own home. When should you stop?  This is a gift for life as stress is a part of life in this day and age. Tremoring helps you to manage and release stress, whenever and wherever necessary. It also increases flexibility in your body AND in your mind!
Organise your own group!  If you have a small group, like your yoga class, work colleagues or family, we can organise a class for you.  Please contact me to discuss your requirements
An individual consultation/sTREss away session is recommended,  prior to joining in with a group session.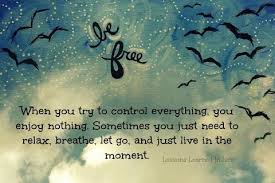 Fusion Events
Jacky runs regular Fusion events which combine a variety of techniques and practices as well as TRE.  Fusion may include – network spinal analysis, restorative yoga, vinyasa yoga, restorative yoga, yoga nidra, and/or numerology.
Jacky is an enthusiastic TRE Level 2 Instructor who loves to assist you to tremor away stress, tension, and trauma in a group setting. Jacky offers personalised 90-minute sessions, in person or on Skype.
Health & Wellness
Jacky has an extensive background in the fields of natural health and wellness, employing her wealth of experience to work intuitively to assist you to free up tension patterns in your body and get back to making the most out of your life. TRE offers you a consistent, simple approach to relieving stress, trauma, dis-ease and pain. You may achieve the ongoing benefit of relaxation, better sleep, more clarity and improvement in all areas of your life.
Students who tremor a few times per week report continued benefits  Jacky shows you how to get in touch with your innate ability to clear old tension patterns without the mind needing to be engaged.   Friendships are formed and networks are created as you spread the tremor, that is TRE, far and wide.
Online classes will soon be available. Sign up below so that we can send you details.
Get in touch now. You deserve to get the most out of your life.
Recent testimonial from Leanne. She only attended one ninety minute private session, and this is an excerpt from her email to me a few weeks later.
I am still amazed at how awesome our session was and the benefits I have felt since. As you know when we had our follow-up call, I did have quite an extreme emotional reaction which lasted a couple of days. This was exacerbated by communications with my ex. However, within a of couple of weeks I began to notice surprising physical benefits. My headaches and neck/shoulder pain seemed less but most amazingly was the shift in my back pain. For the first time in years I was able to vacuum standing up and did the whole house in one go! Since my car accident I'd had to do it in multiple stages on my hands and knees also due to pain in my broken arm and ribs. I was so excited I had to ring my daughter and tell her!

It was the exercise experience that blew me away. Before I saw you, I had days where I could hardly walk. By the time I got to the retreat, I went into the gym and everything came to me so easily because I was practically pain free! For the first time in over a year I could hop on the exercise bike – no back pain; I was lifting weights and doing push-ups – no pain in my arm; and one day I even had to jog to get to my cabin in a hurry – I was so amazed that I didn't feel pain in my leg or chest, that I jogged all the way back! I have never done that since the accident nor hardly before with the fibromyalgia pain. I developed a gentle exercise and stretching program in the gym nearly every day and by the time I left I had improved greatly from my first assessment. With all the healthy eating and getting my body moving I lost 4kg. Bonus! It really is that easy. My challenge for a long time since being on my own was simply to get motivated and see worth in developing a routine and practise – just a setback trying to transition from coupledom to being single, falling into depression and anxiety. But now it's time to keep moving onward, accepting there will also be twists and turns along the way, and I'm feeling excited for my new life and wherever the next leg of my journey takes me.

Thank you so very much : )

Leanne
QUESTIONS? Email me at  jacky@healingfromtheheart.com.au
This is a safe and effective way to resolve stress and trauma related issues.  David Berceli worked with many soldiers who were suffering PTSD as a result of their military service and has had huge success with rehabilitation and gaining a greater understanding of this debilitating and sadly, widespread disease.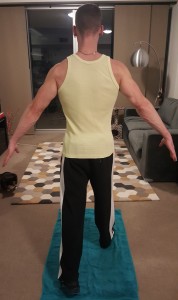 The experiences we have had in our lives will dictate, to a large extent how successful and happy we can be in our lives.  An event such as a traumatic birth experience, a car accident or any event which upsets the nervous system, can cause untold damage to the nervous system, to the skeletal structure and to our emotional and mental faculties.  There are many modalities available which go some way to correcting the imbalance or trauma we have experienced but none so simple and profound as Trauma Release Exercises (sTREss away).
You can discover more about TRE on the Australian and American websites: