Introduction by Jacky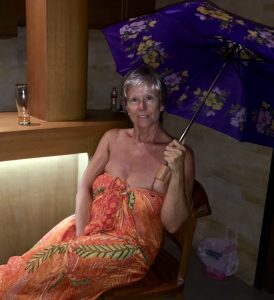 This book and this experience is a collaboration between Gerry and myself. Gerry woke up one morning with the idea running through his mind and shared it with me. Being intuitive and psychic, I instantly recognised the butterfly feeling in my gut as being one of excitement and I knew that this project had wings. To say nothing of the excitement I felt at being an integral part of the project!
Our friend Ray, had commented to us that if one is looking to create a business, "sex sells."  And this project certainly includes sex.
As the title suggests, the book is about two people who are in their sixties.  Some 60+ (or younger) readers may be somewhat surprised by some of the content.  They may find it explicit or a little erotic. It is important to know that Gerry and I are head over heels in love with each other. The love between us just keeps growing, and we are continually in awe of these feelings and the intensity of them.  If we had looked forward from our fifties and were able to see the enriching and energetic love life we have now, we would not have believed it!  And it permeates into every area of our lives.  Intrigued? Read on……
We are respectful of life and of each other.  We are not aiming to shock, quite the contrary.  This book is a book about love.  The love that is available for every one of us.  The love that helps us to get fully in touch with ourselves through the catalytic synchronicity of a loving partner.  When we talk about sex, read "sensuality and love."  We share our story and our insights, as we would love to see others (of any age, not just over sixty!) enjoying the sensual and harmonic connection found in a loving relationship.
If you are single, you may find a few gems here about meeting someone and developing a loving relationship.
If you are in a relationship and you feel that your partner may not be reciprocal in the way Gerry and I are, remember that you are the change you choose to see in the world.  Keep working on yourself. As you do the work on yourself you will see the change in every area of your life.
If you are already in a loving, respectful and enjoyable relationship, you will both enjoy the expression of love through these pages.
I invite you to LOVE.  It is a rewarding journey.
Introduction by Gerry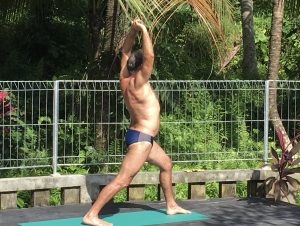 Whoa! That was quite an introduction, Jacky.
The intention of the book is to entertain, evoke emotions, provoke discussion and give you, the reader some insight into our relationship, but also into each of us as individuals. This is not a "How to Guide".  We hope that you will be able to pick out certain little gems that assist you in current and future relationships. Most importantly that you can make a greater connection to who you truly are.
The idea of "Sexy at Sixty" came from my reflection of what an amazing relationship that we had developed in just over a year, sexually, emotionally and spiritually.  Jacky only knows one way and that is through blunt honesty. This was not an easy process for either of us, especially me as I was not used to sharing my innermost thoughts or desires, particularly around sex. This journey of exploration was both exciting but also full of fears as we opened up to a sense of rawness.
Both of us had come out of a period of darkness in our lives and we want to particularly point out that we don't put blame on any past partners, wives or husbands for any baggage that we brought into our relationship. The story is about us and finding our authentic selves.
Each chapter will carry a theme, eg Massage, Yoga, Foreplay, Numerology, Sensuality, Gratitude and Fantasy. How they all have tied into making us feel "Sexy at Sixty".
I have thought for a long time that we are but a product of the experiences that we have had through our lives.  Now I realise how far from the truth that idea is. If I had continued to believe that premise I could have missed out on the most sensual, erotic, stimulating and rewarding time of my life.
Here you will find Teasers, videos, recordings and outtakes of the content of the book, right here as it is developed.  It will be updated and will tease and tantalise you so that you have the curiosity to buy the book (or download the Ebook) on completion.