A two hour fusion of TRE, Restorative Yoga and Yoga Nidra
Dissolve stress
Sleep better
Improved relationships
Less pain
More flexibility
Better moods,
More relaxed
More resilient to stressful situations
and so much more …………
What people are saying about the last Fusion event in June 2016
Starting my Monday feeling looser and lighter….thank you Jacky Haworth! Awesome sTREss Away workshop yesterday! Beautiful restorative yoga to celebrate the new moon. Can't wait to do another class! Michelle Nerang

I was sceptical about going, but I'm glad I did. I had to work at night but I actually felt really good and well. So thank you and I will return. Paul attending for the first time
A fusion of
….TRE
Tension & Trauma Releasing Exercises
Jacky calls her TRE class sTREss Away and runs weekly classes.
Jacky takes you through a series of simple exercises that open and stretch the Psoas muscles to invoke a gentle shaking response in the body.  This unwinds and releases stored stress,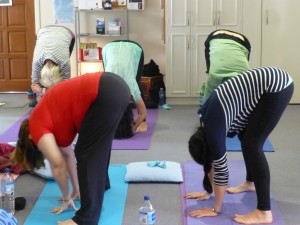 tension and trauma without having to re-live or re-experience past or current events. You perform six relatively simple exercises which are designed to create fatigue in certain muscle groups. Then you lie down and the body automatically starts to gently shake to release the stress and tension.  no need for the mind to be engaged in the process at all.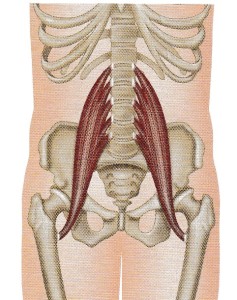 ….Restorative Yoga
Deeply relaxing yoga postures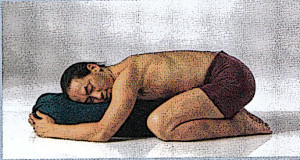 A gentle, way to stretch and harmonise the muscles to bring deep relaxation and calm to the mind and the spirit. Jacky focuses the poses on the Psoas muscles – the core of our existence, the muscle of the soul. You will hold the poses for several minutes but each pose is a very gentle stretch with the body fully supported.  You will enjoy the deep relaxation that each pose brings.
….Yoga Nidra
Divine sleep
Deeply relaxing guided meditation or divine sleep. Aids the body in completely letting go and bringing all your senses into a deeply relaxed state of presence. Here the Psoas is resting and homoeostasis (balance) is easily achieved. when we are relaxed and balanced, life works so much more easily!
You have the opportunity to explore the awareness of your body in a 2-hour fusion of gentle yoga style exercise, spontaneous tremoring and total relaxation followed by gently restoring yoga.
Fusion
A cathartic blend of the best natural healing available.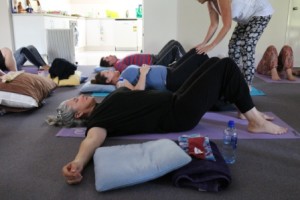 You commence the class with gentle exercises which are specifically designed to fatigue certain muscle groups. Then you lie down and allow your legs to shake or tremor. This is a totally natural and organic experience with no real effort required and no need for the mind to be involved at all. This is followed by a Restorative Yoga session using poses which are very gentle and relaxing for the body, most of these poses are in a relaxed and prone or supine posture. To deeply relax you, Jacky will complete the practice with a Yoga Nidra (or Yoga sleep) guided meditation to give you the time you need for integrating the deep healing potential of the session.
0438 682 405
Contact me here for information