A Yoga workshop which is unique and life changing
presented by Gerry Getty and Jacky Haworth
A fusion of Yoga, TRE and Numerology
Sat 9th September 2.00 – 5.00pm
at Liftoff Yoga 335 Hein Road, Buccan, Brisbane
Contact us for more details. We are on the move around Australia so we can coordinate a workshop in your area.
Duration 3 hours – gifts that will last a lifetime!
$75 per person

This experiential Yoga workshop explores how to release stress, connect to your true selves through Yoga, TRE (Tension Releasing Exercises), Meditation and Numerology. Jacky and Gerry, business and life partners, are redesigning their own lives to live with more freedom and harmony – between themselves and in the way they balance work, life, yoga and fun!
They have formulated this totally unique Yoga workshop which determines through your own personal numbers (personality type) how to explore your own dedicated Yoga practice. The workshop will give you a flowing practice of asanas that most benefit your personality, your life, your growth. You may choose to be calmer, or you may wish to be more energetic or assertive, whatever feels right for your specific personality type. You may want to work on healing pain and dis-ease or reclaiming your self-worth.

Once you complete this workshop, with regular practice, life gets calmer and you become more resilient to life's bumps in the road.
The Yoga workshop consists of a lively information session with Jacky to determine your personal numerology. We explore the yoga poses (asanas) as we go. Then Gerry leads you through a Yoga session which culminates in a relaxed TRE tension-relieving experience. Finally, a guided meditation assists you to fully integrate the entire process.
FUSION
Yoga with an experienced, male instructor who embodies love and compassion. Stretch and flex to release tension.
Numerology tailored to you specifically. You can see your gifts and challenges and work with them to enhance your practice.
TRE (Tension Releasing Exercises) release stress, tension, and trauma to feel more at ease with life.
Meditation: Yoga Nidra to calm the mind and bring everything back to balance.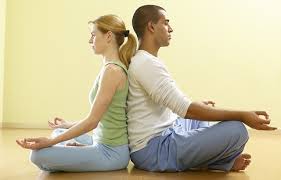 BOOKINGS ESSENTIAL. No previous experience required
Prepayment is requested via this website using Paypal, Credit Card or Bank Transfer.

Yoga workshop –  Jacky 0403 777 660, Gerry 0403 777 660